Sep 21 2007
Greetings, I'm Doug, a 40 year old software engineer living in the Pacific Northwest. In my free time I like to work on my computer, play video games, read, travel, restore classic arcade games, draw, and play guitar. Most of all, I enjoy spending time with my lovely girlfriend Luanna who is also a gamer, wonderful cook, sci-fi fan, registered nurse, and a very dedicated mom.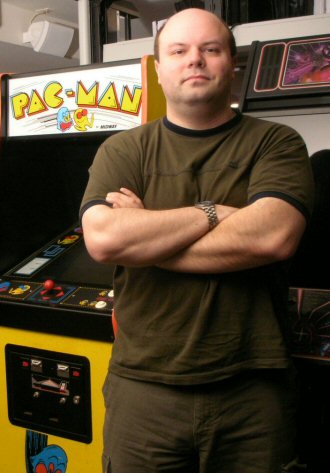 Web Sites
I operate several web sites. Most notably is JMSNews.com which is an ongoing message archive of usenet posts by J. Michael Straczynski (JMS).  The site archives over 17,000 messages from JMS and has a strong forum community. The site has been in existence since 2003 and receives over a million visitors per year (which blows my mind).
Computing
Much of my day is happily spent in front of a computer. I'm either at the office where I work on frameworks for building connected enterprise applications or at home web surfing, playing games, working on coding projects, reading forums, maintaining my web sites, or experimenting with technology.
I enjoy a certain amount of hacking and reverse engineering to find out how programs work. Often the most fun I have with a game is getting it to do things that were never intended by the developer.
I'm pretty serious about my computing environment. Below is a picture of my main workstation. It's a U shaped unit with three levels of shelves, integrated power strips, and wire troughs. It features steel construction and is rated to support over 6000 pounds of equipment.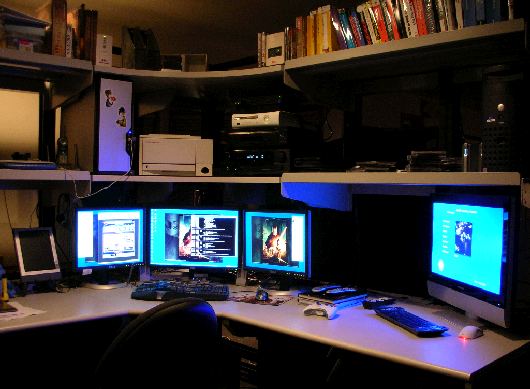 The great thing about this workstation is that there is room on the shelves for everything (e.g., CPU, UPS, printer, scanner, receiver, xbox, TV) so nothing has to sit on the floor. If you're interested, product info can be found here. Okay, I guess I've established I'm a geek when it comes to stuff like this…
Gaming


I've been computer gaming since my Atari 800 days back in the early 80's. Back then it was games like Zork, Ultima, Bards Tale, M.U.L.E, Lode Runner, Kings Quest, etc. Then I moved up to the Atari ST and played great games like Sundog, Dungeon Master, and Lemmings. After that it was PC gaming with titles like Wing Commander, Day of the Tentacle, Command and Conquer, Starcraft, and Warcraft.
I have a particular love for FPS shooters like Team Fortress, Quake, Unreal Tournament, and Battlefield 1942. In that genre I'm currently playing Team Fortress 2 and BIOSHOCK. One of my all time favorite series is Half-Life. I also enjoy tactical shooters such as Rainbow 6 and the SWAT series.

For console gaming, I have enjoyed the Halo series, Mario, Sonic, KotoR, GTA, SW Lego, Splinter Cell, Zelda, God of War, and many others. Since I've had a personal computer since the early 80's, I didn't get into the early consoles as much as some people. My console experience started with the Atari 2600 and progressed through the NES, SNES, Sega Saturn & Dreamcast, N64, Xbox, and Xbox 360.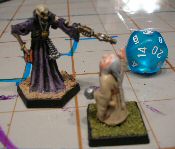 I play some pencil and paper RPGs and have hosted a weekly D&D game at my house for the past seven years. I have a great group of friends who play and we've gone through many adventures. Most of the campaigns have been made up by the DM but we have done a few modules such as Return to the Temple of Elemental Evil. We are currently playing a D&D 4th Edition campaign.
We've talked about playing other games such as Spycraft or Call of Cthulhu but so far those games haven't gotten off the ground.
Travel
I have a couple reoccurring trips each year which are the San Diego Comic-Con and Dragon*Con in Atlanta. Both of these conventions are a lot of fun but for different reasons. Comic-Con is typically about shopping and attending panels for upcoming releases while Dragon*Con is more about catching up with friends, hanging out, and concerts.
I also like to take a trip abroad every year or two. The most recent was to Tasmania and Australia this year. We had a great time and got to meet with friends in both locations. On other trips I've visited Japan, Belize, Mexico, England, Scotland, Ireland, France, Germany, Denmark, Sweden, Norway, and of course Canada. I'm planning to return to Sweden in 2008 and would really like to visit Japan again sometime too.
I love visiting castles. It's actually been the focus of several Europe trips. The castle in the banner at the top of this page is Bodiam Castle. It is located in East Sussex, England and is one of the favorites.
Music
I listen to a wide variety of music. My tastes include rock, classical, blues, electronic, and some really obscure bands I've found on the internet. The only type of music I don't get into is country, with the exception of a few artists like Johnny Cash.

From the 60's and 70's, I enjoy bands like Led Zepplin, The Doors, Jimi Hendrix, The Who, Black Sabbath, Jethro Tull, and Pink Floyd. From the 80's, I still like Van Halen, Def Leppard, Ozzy Osbourne, Rush, Queensryche, Dio, Metallica, Iron Maiden, and Judas Priest.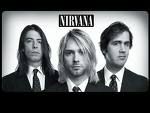 In the 90's we had greats like Nirvana, Alice in Chains, Pearl Jam, Sound Garden, and Smashing Pumpkins who were all local here in the Pacific Northwest.
I'm into certain types of folk music such as medieval, renaissance, and Celtic. Bands like John Renbourn, the Medieval Babes, and Brobdingnagian Bards. I particularly like hearing this type of music live.
Other random bands to add to the list are Tool, U2, Violent Femmes, White Zombie, Jane's Addiction, The Tea Party, Nine Inch Nails, Genesis, Talking Heads, Apocalyptica, and Sarah McLachlan.

I also listen to a lot of electronic music. Bands like Orbitial, Future Sound of London, The Prodigy, Aphex Twin, Crystal Method, Apoptygma Berzerk, DJ Shadow, Moby, VNV Nation, Front Line Assembly, and Fatboy Slim.
Recently I've been listening to the German band Haggard who successfully combines folk, classical, and death metal into what is known as symphonic metal. Also from Germany is Running Wild (pirate metal), Rammstein, and Eisbrecher. The British folk metal band Slyclad and doom metal My Dying Bride are also favorites.
Film
We can start with some of the obvious nerdy films like the original Star Wars Trilogy, Blade Runner, Back to the Future, Indiana Jones, Tron, Terminator, Alien(s), Matrix, and of course Peter Jackson's Lord of the Rings.

I like most of the films by Quentin Tarantino such as Pulp Fiction, Kill Bill, Reservoir Dogs, From Dusk Till Dawn, and Death Proof. James Bond films are great, particularly those with Sean Connery, Roger Moore, and most recently Daniel Craig in Casino Royale. For horror, I have enjoyed Clive Barker's Hellraiser series as well as Wes Craven's Nightmare on Elm Street.

The Japanese director Hayao Miyazaki is a legend in the field of animation. His anime films such as Nausicaä of the Valley of the Wind, Princess Mononoke, Howl's Moving Castle, and Spirited Away are classics. I also greatly admire the work of Akira Kurosawa for films such as Seven Samurai, Yojimbo, and Ran.
Some other films I've enjoyed are Close Encounters of the Third Kind, The Professional, American Beauty, Unforgiven, The Abyss, and the Harry Potter series.
Books
In my spare time, I like to read fantasy, science fiction, history, computing, and books on Japanese culture and budo. 

For fantasy, I have read authors such as Robert Jordan, Piers Anthony, Clive Barker, Terry Brooks, Steven Erikson, Neil Gaiman, Terry Goodkind, Michael Moorcock, J.K. Rowling, and J.R.R. Tolkien.
I don't read as much science fiction, but have enjoyed the works of Douglas Adams, Isaac Asimov, Arthur C. Clarke, Phillip K Dick, William Gibson, Robert A. Heinlein, Carl Sagan, H. G. Wells, and Timothy Zahn.
I also read a certain number of technical books for work and pleasure. Usually on computer subjects such as programming frameworks, security, and languages.
Martial Arts


I've studied a number of martial including Karate, Tae Kwon Do, and Aikido. I invested the most training in Kenjutsu which is the art of Japanese swordsmanship. Kenjutsu is the military art form that was taught to the Samurai for use on the battlefield. I studied formally for about 5 years under Kangas and Parks Sensei at Aikido Seikikai. In addition to learning the sword we also practiced techniques with the Jo (short staff).
On the modern side, I have studied both armed and unarmed self defense. Most of my training has been with Insights Training Center where I've completed courses in unarmed self defense, defense knife, pepper spray, basic & intermediate handgun, defense rifle, defensive shotgun, street and vehicle tactics, and tactical first aid. I took many of these courses with Greg Hamiliton who is recognized as one of the best firearms and tactics instructors in the world.
Pets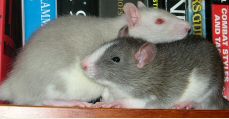 I have two pet rats that occasionally get to sit on my shoulder and watch me work at my computer. They are very friendly, curious, and love to run around outside their cage. The rats are sisters that I adopted from a litter born in Oregon.  
Misc
For more of my interests, check out the Home Arcade or Drawings pages.
3 Responses to "About Me"
#

Slycer

on 09 Nov 2007 at 7:44 am

Geek.

#

Mark (Leyntre)

on 20 Dec 2007 at 6:59 am

You have a great website here HD. I must say that your taste in Movies, Music and Books is outstanding. Your gaming room / computer setup is fantastic as well.

#

Nyobi

on 04 Aug 2008 at 2:17 pm

My goodness this things needs some serious updating, don't ya think? 😉
Leave a Reply