Oct 02 2007
Today is the 30th anniversary of the Atari 2600 video game system. It's hard to believe it has been 30 years since the world was introduced to this revolutionary game system. I still remember the excitement (mostly by me) the day my family bought our Atari 2600.
The first order of business when we got home was figuring out how to hook up the RF switch the back of the TV. The switch allowed the TV input to be switched between the game and the normal antenna.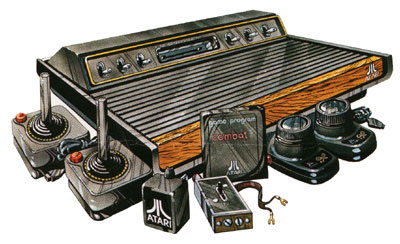 I remember spending hours playing games like Combat and Basketball with my Dad. Those were fun times. The graphics were very primitive but all I knew is that it was awesome to be playing games on the television!
The game, by far, that captured my imagination was Adventure. In this graphical adventure the player explored a magical kingdom in search of an enchanted chalice. Along the way the player encountered castles, dragons, mazes, and had to solve a number of puzzles before ultimately finding the chalice and returning it to the gold castle. The chalice was guarded by Rhindle, the red dragon, who you can actually see in the banner at the top of this page (looks a little like a duck).
 I still have my original Atari 2600 which is sitting in a spot of honor on my game collection bookcase. Thank you Atari 2600 for the great memories and introducing me to the world of home video gaming!
Leave a Reply