Nov 19 2007
The rats are a little over a year old now. The two sisters are full grown and living happily in their 3 story rat cage with a hammock at the top. The one below is named Pint and the other (not shown) is named Lomi. They were named after a couple in my WoW guild.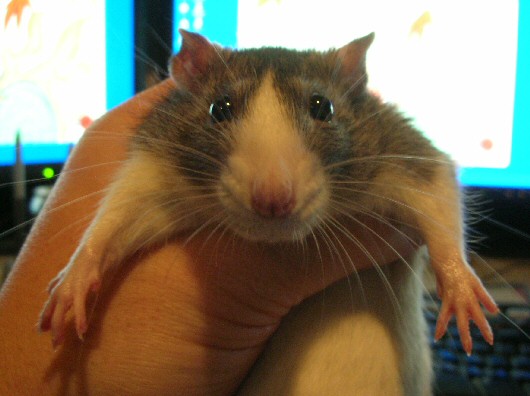 The rats spend most of their day sleeping in the hammock but are pretty active at night. Pint loves to run on the wheel while Lomi never goes near it.
They both have great easy going personalities which I think is due to the breeder handling them regularly since they were a week old. Rats in pet stores often don't receive any significant human contact until they are 5-8 weeks old which is really late in their development.
I've had some great rats that have come from pet stores, however, I think from now on I'm going to adopt from local ratteries. 
2 Responses to "Rats"
#

Casmar

on 20 Nov 2007 at 7:27 pm

lol at the names Doug

I've always loved the fingers on rats. Is that weird? I think they're really cool looking!
Leave a Reply