Oct 25 2007
Neil Young played a great show at the WaMu Theater last night. We had seats in the 4th row which were excellent for both viewing the performance and sound quality. The first half of the concert was just Young on the stage performing acoustic versions of songs like "From Hank to Hendrix" and "Heart of Gold".  His acoustic performance was outstanding and my only wish was that it could have gone on for another hour or two.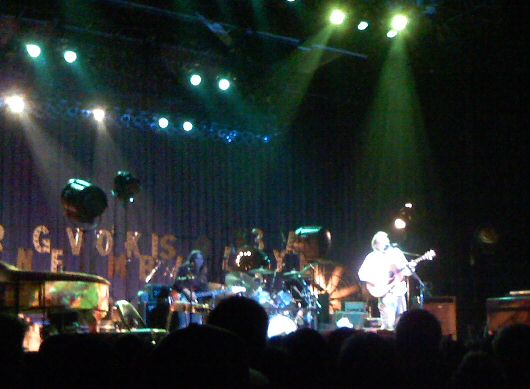 Between songs, it was almost comical the way he wandered among the assorted instruments on stage while contemplating which song to play next. Young's voice and guitar playing sounded fresh and he looked very relaxed on stage. His trademark harmonica accompanied his guitar on many of the songs in his acoustic set. He also played the piano and banjo on a few select songs.
The rest of the band joined Young on stage for the second half of the concert and they rocked through songs such as "Cinnamon Girl" and "Like a Hurricane". He played quite a few songs from his new album which just happened to be released on the day of the concert. One new song, "Spirit Road", had a nice groove and went on for over 15 minutes.
I attended the concert with my Dad, who had just had some surgery less than a week ago. He was definitely sore and still recovering but didn't want to miss the concert. I'm really glad that he was able to make it because it turned out to be a great show. We both particularly like Young's acoustic work so the opening set was a real treat.
Here are the set lists:
Acoustic set: "From Hank to Hendrix", "Ambulance Blues", "Sad Movies", "A Man Needs a Maid", "Homegrown", "Harvest", "After the Gold Rush", "Mellow My Mind", "Love Art Blues", "Love Is a Rose", "Heart of Gold".
Electric set: "The Loner", "Everybody Knows This is Nowhere", "Dirty Old Man", "Spirit Road", "Bad Fog of Loneliness", "Winterlong", "Oh Lonesome Me", "The Believer", "No Hidden Path", "Cinnamon Girl", "Like a Hurricane".
Leave a Reply