Sep 24 2007
I attended the Halo 3 midnight event at the Redmond Town Center EBGames tonight. There were several other stores in the area (e.g. Bellevue Best Buy) also staying open late for the midnight release. I read somewhere that over 10,000 stores nationwide held midnight events.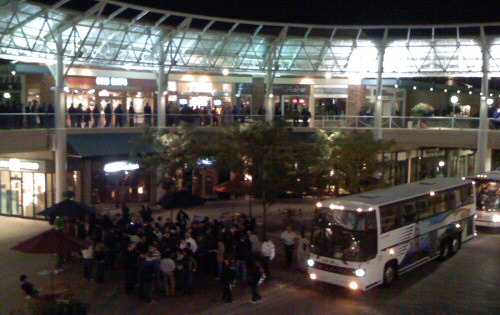 Not too many entertainment releases draw this sort of attention and I suspect it is right up there with the Harry Potter and Nintendo Wii releases. Microsoft is expecting Halo 3 to be the largest entertainment release in history for first day sales. We'll find out later this week if it achieved that goal.
I got in line around 10:00pm and appeared to be behind about 400 people. The atmosphere was one of excitement but not quite as rowdy as the Halo 2 launch (which I also attended here). The Redmond Town Center is an outdoor mall so I was a bit concerned about the weather. Fortunately the weather cooperated with clear skies and temperatures in the high 50's.
The wait until Midnight went by fairly quickly. The crowd provided a certain amount of entertainment with things such as people dressed up for the occasion (e.g., a guy painted green wearing a helmet), spontaneous cheering, and all other sorts of wackiness. I also spent time watching Sealab 2021 and Robot Chicken episodes via YouTube on my iPhone.
A few minutes before midnight Bungie arrived in three large busses. This, of course, generated a lot of excitement particularly when dozens of Bungie employees walked the length of the line handing out tee shirts and other swag. When midnight rolled around, the line began moving and thanks to a very efficient operation by EBGames I had my Halo 3 Legendary Edition in hand by 12:35AM. The store had earlier ran everyone by the register to pay for their purchase so when midnight came all they had to do is hand out the product when you showed you receipt.
I got home before 1:00AM which left a few hours to play the game. I won't go into details here other than to say I'm very happy so far.