Jul 10 2007
Late last year I placed an order with MMOArt.com to draw a portrait of one of my World of Warcraft characters. I choose my L60 Night Elf Druid named Honeydew since that was the character I played most. The picture would not have been complete without her pet and faithful travelling companion Panda Cub.
After a very long wait, I received the final artwork and I have to say that it came out great. Check it out (click for larger image):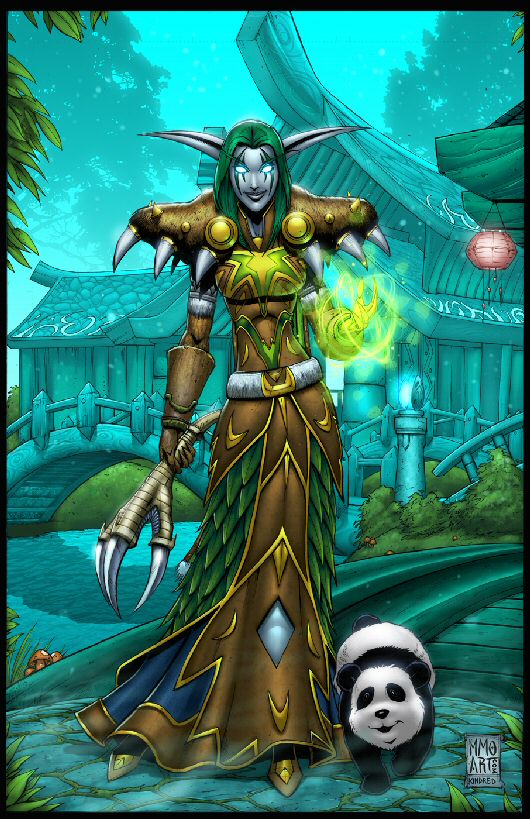 The process of commissioning a portrait with MMOArt.com starts by submitting several screen shots of your character to the site along with a description of what you're looking for in the picture. I choose to go all out and have a full color portrait with background done.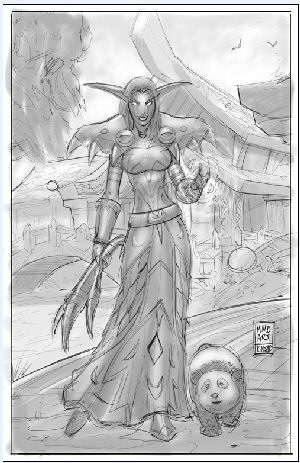 The artist contacted me with a few questions such as what background I wanted for the picture. Since Honeydew is a druid I choose the city of Moonglade and provided a screenshot of a location that I thought would be nice. A few weeks later I received an email containing a rough sketch for my approval. I accepted the sketch and the project then went to the inking and coloring stage.
The artist decided to ignore the Moonglade screenshot I provided and instead did what is seen above. The above location is a much better choice and it's great that the artist was familiar enough with Moonglade to make that call.
I had a problem with the first set of prints being damaged in the mail. The folks at MMOArt.com were great about sending replacement prints.
By the time my commission made it to the top of the queue the Burning Crusade expansion had come out and I was well on my way to L70. My character no longer wore the Stormrage Tier 2 armor set seen in the picture, however I decided to stick with it anyway because completing that armor set represented a milestone for the character and many fond memories of raiding with my guild.